Nick Lowe
Nick Lowe has made his mark as a producer (Elvis Costello - Graham Parker - Pretenders - The Damned), songwriter of at least three songs you know by heart, short - lived career as a pop star, and a lengthy term as a musicians' musician. But in his current 'second act' as a silver - haired, tender - hearted but sharp - tongued singer - songwriter, he has no equal.

Since 2016, Nick has performed and recorded with Los Straitjackets—turning out a series of EPs comprised of new songs and covers.

Los Straitjackets
Los Straitjackets are the leading practitioners of the lost art of the guitar instrumental. Using the music of the Ventures, The Shadows, and with Link Wray and Dick Dale as a jumping off
point, the band has taken their unique, high energy brand of original rock & roll around the
world. Clad in their trademark Lucha Libre Mexican wrestling masks, the "Jackets" have delivered their trademark guitar licks to 16 albums, thousands of concerts and dozens of films
and TV shows

Biljetter from 23 mars på Biljettcentrum samt via tickster


Håll koll på föreningens Facebooksida

Vi tackar Lowdown Saints för fantastisk kväll på Droskan den 19 mars. Dom kommer tillbaka, var så säker!

Den 20 mars kallar Umeå Blues till årsmöte, Umeå Folkets Hus, Ask klockan 19.00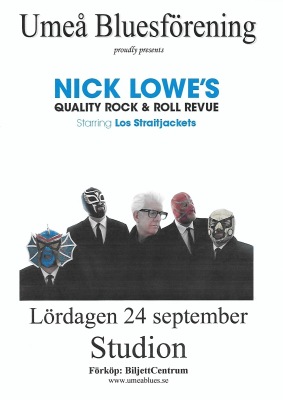 Vi är anslutna till Kompiskortet. Det innebär att du med Kompiskort går två personer till priset av en på våra arrangemang.
Våra lokaler är tillgänglighetsanpassad, för mer information om aktuell scen, så kolla in resp spelplats alternativt ta kontakt med oss, Umeå Blues. Kontakta oss på umeablues@gmail.com.
Läs mer om Kompiskortet och vilka fler arrangörer som är anslutna på www.umea.se/kompiskortet
Vill du bli medlem i Umeå Bluesförening? Sätt då in 150:- (helår) på Bg: 698-3571
Skriv namn och adress, så skickar vi ditt medlemskort.